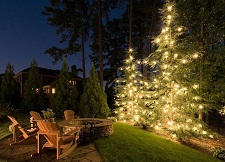 Many homeowners believe attempting to sell their places during winter is a losing proposition. Real estate agents, however, know any season is the right one when a property is attractive and represents a great value. With inventory typically lower during the cold weather months, it's actually a perfect time to put a home on the market. It also doesn't hurt to set the stage — or sweeten the pot, if you will — by evoking a warm and welcoming vibe that makes would-be buyers want to hang up their coats, kick off their boots, and stay a while. There's no denying it's cold out there, so why not embrace it? The following are amenities that prove winter really can be the most wonderful time of the year.

1. FIRE PIT
#Cozy #night by the #fire during the #holidays…

A post shared by Lights Over Atlanta (@lightsoveratlanta) on Nov 28, 2017 at 2:18am PST
Create a covetable outdoor space with the help of a fire pit. Whether it's made of stone and serves as a permanent fixture or is a movable and affordable centerpiece for backyard S'mores-making, adding the element of fire ups the charm factor immediately.
2. HOT TUB
A nighttime soak in this Jacuzzi ® Hot Tub will bring a smile to your face in no time

A post shared by Jacuzzi Europe Official® (@jacuzzi.europe) on Nov 28, 2017 at 7:42am PST
Wait, is this a home or a five-star resort? Watching steam rise from a frothy hot tub on a chilly afternoon or evening makes anyone want to move right in! Giving a place the spa treatment, will remind home-shoppers that with this luxurious item on the premises, winter can last as long as it likes.
3. HOME THEATER
Think the kids will like this one? #SoldbyKenitaTang #Kenitatangrealtor #Movienight #hometheater #movies #Kids #Realtor

A post shared by Kenita Tang (@kenitatangrealtor) on Nov 28, 2017 at 7:20am PST
Especially during the winter, and particularly in cold weather climates, playing up the ability to have a blast indoors does wonders for buyers' peace of mind (moreso if they're parents). A home theater, even on a smaller scale (think flat screen and an old-fashioned popcorn maker), helps visitors envision themselves and their families surviving those endless snow days in style.
4. FIREPLACE
Love this #cabin style #oceanside #property . The #fireplace and floor to ceiling #windows just dance together. @realtylerlewis @sellnowforcashfast #gogetit #workhard #luxury #realestate #luxuryrealestate #realestateinvestor #invest #investor #investing #entrepreneur #entrepreneurlife #entrepreneurship #entrepreneurlifestyle #entrepreneurmindset #house #houses #homes *photo credit owner

A post shared by Tyler Lewis (@realtylerlewis) on Nov 28, 2017 at 9:25am PST
It's almost impossible to resist the hypnotic allure of a roaring fire. According to the National Center for Real Estate Research, fireplaces have a positive impact on the selling price, with each fireplace adding about 12 percent. If a home has this feature, by all means, strike a match and watch that property heat up!
5. IN-HOME WINE BAR
So proud of what @jackinthebox31 and I accomplished! After 5 weeks, the #winebar is finally finished. Time to put it into good use